Lapshina, Zinaida Ivanova
Лапшина, Зинаида Ивановна


Born July, 5, 1946, Moscow, USSR

Zinaida Ivanova Lapshina is a graphic artist and art teacher. In 1971, she graduated from the poster workshop of the Moscow State Art Institute named for V. I. Surikov. During her time at the institute, she studied under the tutelage of graphic artists Nikolai Ponomarev, Oleg Savostiuk and Boris Uspenskii. In the mid-1970s, Lapshina was awarded the First Prize at the All-Union poster competition for her 1975 poster design, "Glory to the Soviet Woman-Worker". Zinaida Lapshina worked as an artist for the "Agitplakat" workshop. In terms of her poster designs, some are considered hallmarks of Soviet poster design from the 1970s such as the titles: "The Soviet people are deservedly proud of their convenient, world's best metro!" (1972); "Glory to the working woman!" (1975), "Flourish, my native land!" (1976), and "We are the masters of the country!" (1979). In addition to design work, Lapshina has been engaged in pedagogical activity teaching drawing, composition and painting. She became a member of the Union of Artists of the USSR in 1974 and she is a member of the Union of Artists of the Russian Federation (ROOKh) and a member of the Association of Poster Makers of the Moscow Union of Artists (MOSKh). Lapshina was awarded an art prize by the Council of Ministers of the USSR and she was accorded a price by the Leninist Komsomol. For her work, she has also received diplomas from the Union of Artists of the USSR and from the Russian Federation.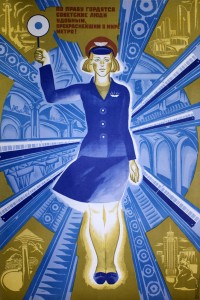 Fuentes
Baburina, N. I. (1988). The Soviet Political Poster, 1917-1980. New York: Penguin. (bio, artist)
tramvaiiskusstv.ru (bio)
home.artunion.ru (date of birth)