Leonov, Iurii Borisovich
Леонов, Юрий Борисович


Born November 26, 1952, Leningrad, USSR

Iuri Borisovich Leonov graduated from the School of Graphics of the Union of Artists of the USSR. Leonov chiefly has worked in graphic design, book illustration, painting, and as an art instructor.

The artist's noted poster titles include: "Stalinism!" (1988); "Party, reorganize! Until it's too late."; "Do not pull Russia apart into fringe principalities."; "The President of the Union of Soviet Socialist Republics...M. Gorbachev" (all from 1990). During the 1980s and early 1990s, Leonov designed posters for the Plakat (Poster) Publishing House.

Leonov has been awarded honorary certificates and diplomas during his career such as the medal for the Contribution to the Art of the Federation of Professional Artists in Russia. In 2017 the artist was made an Honorary Member of the Russian Academy of Arts in Moscow. Leonov's works are held in museums such as the Russian State Museum (St. Petersburg), the Museum of Painting (Manchester, England), the Poster Museum (Chicago, USA), Museum of Graphics (Osaka, Japan), and in the Memorial Museum at Auschwitz (Poland). Iuri Borisovich Leonov is a member of the Moscow Union of Artists and a board member of its section on poster art. He is also a member of the Union of Artists of Russia.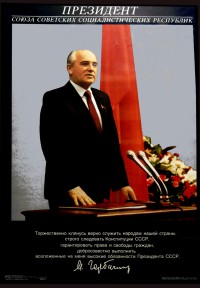 Fuentes
Rah.ru (date of birth)
tramvaiiskusstv.ru (bio)
artanum.ru/site_news/index.php?id=656 (2012 birthday exhibit of the artist)