Masliakov, Oleg Dmitrievich
Масляков, Олег Дмитриевич


Born 1928, Sevastopol, USSR; died; April 16, 2009, Moscow, Russia

Oleg Dmitrievich Masliakov was a Soviet-based graphic artist. In his youth, he lived in the city of Tula. He graduated in 1960 from the Moscow Regional Art Pedagogical School of 1905 (a.k.a. Surikov Institute). At the Institute, he studied under Nikolai Ponomarev and Mikhail Cheremnykh, two noted Soviet poster artists of the era. In the years after graduating from the institute, Masliakov designed film posters. He went on to collaborate with the poster workshop Agitplakat, with the Union of Artists of the USSR, and with the publishing houses "Soviet Artist", "Fine Art", "Soviet Russia", and "Plakat" where he served as Chief Artist from 1985 to 1990. In addition, Masliakov designed for the Visual Agitation Workshop of the Union of Artists of the Russian Socialist Federative Soviet Republic.

In the USSR, Masliakov exhibited at Republic and All-Union levels. In 1974 and again in 1980, he was awarded prizes by the Soviet Peace Committee. In 1974-'75, 1977, 1979-'80, Masliakov was awarded silver and gold medals for his artwork at the Exhibition of Achievements of National Economy (VDNKh) in Moscow. In 1982, he was named a Laureate of the First Prize at the International Competition of the "Poster in the Struggle for Peace". Oleg Masliakov was a member of the Union of Artists of the USSR and in 1983, he was bestowed the title of Honored Artist of the Russian Socialist Federative Soviet Republic. Published sources also indicate his year of his death was 2008.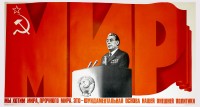 Fuentes
Michailova, T. V. (1982). Moskovskie plakatisty. Moskva: Sovetskii khudoznik. (bio on Masliakov)
tramvaiiskusstv.ru (bio)
arthive.com (bio)