Samoilov-Babin, Lev Samoilovich
Самойлов-Бабин, Лев Самойлович


Born September 28, 1918, Poltava, Ukrainian State (Hetmantate); died January 23, 1988, Moscow, USSR

Lev Samoilovich Samoilov-Babin was a Soviet painter, poster artist, cartoonist and illustrator. In his youth, his family moved to Kharkov, Ukraine due to hostilities caused by the Russian Civil War. In Kharkov, he studied at the city's art school and went on to continue his education at the Ilya Repin Leningrad Institute of Art. When his studies were interrupted by the war, Samoilov-Babin went on to serve in the Russo-Finnish War (1939-1940), and in the Second World War. He honed his illustrative technique during the war and his cartoons were regularly printed in Soviet newspapers during the war years. After the war, Samoilov-Babin worked in the genre of political satire for various Moscow publications including a thirty-year position illustrating for the magazine Crocodile. He also collaborated with the magazines: Iskra [Spark]; Smena [Shift], and with the newspapers Pravda [Truth] and Izvestia [News]. During his career, Samoilov-Babin participated in Republican, All-Union and international exhibitions. Solo exhibitions of his work were held in Kronstadt (1939), Leningrad (1942, 1971), Moscow (1972, 1981), and in Ivanovo (1985). In 1948, Samoilov-Babin became a member of the Union of Artists of the USSR.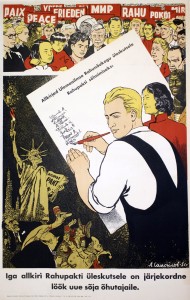 Fuentes
tramvaiiskusstv.ru (bio)
arthive.com (bio)
livelib.ru (birth and death dates cited)
ester.ee (work of Samoilov-Babin cited)