Veideman, Karl Ianovich (Veidemanis, Kārlis)
Вейдеман, Карл Янович


Born 1897, Latvia, Russian Empire; died 1944 (location unknown), USSR

Karl Ianovich Veideman (Karlis Veidemanis) was born in Latvia when it was part of the Russian Empire. In 1915 Veideman graduated from the Riga School for Painters and Decorators and then made his way to Petrograd (St. Petersburg). In Petrograd, he enrolled in the drawing school of OPKh (Society for the Encouragement of Artists) where he studied from 1915 to 1917.

During the 1917 October Revolution, Veideman and fellow Latvian artists Gustav Klutsis (Gustavs Klucis), Vladimir Anders (Voldemar Anderson) and Karl Ioganson (Karls Johanssons) formed an art studio within the 9th regiment of the Latvian Riflemen, a section of the Imperial Russian Army that had defended the Baltics against the Germans. The four artists also served as Red Guards in Moscow and in Petrograd. After the revolution, Veideman moved to Germany for a brief period. Upon his return to the Soviet Union, he worked as a graphic designer. With Anders and Klutsis, their combined design skills helped develop the burgeoning aesthetic of Soviet art in the 1920s.

In 1938, Karl Veideman was arrested by Soviet authorities and was executed in 1944.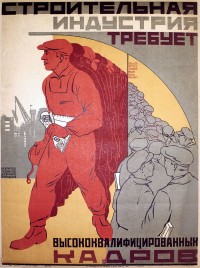 Fuentes
Witkovsky, M. S., & Fore, D. (2017). Revoliutsiia! Demonstratsiia!: Soviet art put to the test. Chicago: the Art Institute of Chicago. (bio)
Milner, J. (1993). A dictionary of Russian and Soviet artists 1420-1970. Woodbridge: Antique Collectors' Club. (bio)
Bown, M. C. (1991). Art under Stalin. Oxford: Holmes & Meier. (bio)