Chupiatov, Leonid Terent'evich
Чупятов, Леонид Терентьевич


Born 1890, Saint Petersburg, Russian Empire; died 1941/42 Leningrad, USSR

Leonid Chupiatov attended a drawing school affiliated with OPKh (Society for the Encouragement of the Arts) in Saint Petersburg from 1909 to 1912. After taking lessons in private studios, he attended SVOMAS (Free State Art Studios) from 1918 to 1919 where he studied under the tutelage of Kuz'ma Petrov-Vodkin.  Vodkin played an important role in Chupiatov's artistic development. From 1921 to 1925, Chupiatov worked at the research department of VKhUTEMAS (Higher Art and Technical Studios), and he was a member of various artistic collectives such as: Mir Iskusstva (World of Art), Zhar-tsvet (Fiery Palette), Obshchina khudozhnikov (Artist Community), and Obiedinenie sovremennykh khudozhnikov Ukrainy (Union of Contemporary Artists of Ukraine).

From 1918 to 1920, the artist taught at the Art School of the Baltic Fleet, from 1926 to 1928 he was on faculty at the Kiev Art Institute. In 1929, Chupitov taught at the Academy of Art of the USSR, and during the mid-1930s, he held a teaching position at GINKhUK (State Institute of Artistic Culture) in Leningrad (St. Petersburg). From 1933 to 1941, he worked as a theater artist and consultant for the Gorki Bolshoi Drama Theater in Leningrad. Chupiatov designed sets for noted composers such as Peter Tchaikovskii and Vladimir Deshevov and he worked with the famed stage director Konstantin Stanislavskii.

Chupiatov's work was included in the following exhibits: the First Free State Exhibition of Artworks (Petrograd, 1919); Exhibition of Paintings by Petrograd Artists of All Tendencies: 1919-1923 (Petrograd 1923); the formative exhibition, The Tenth Anniversary of the Revolution (1927, Moscow); and Artists of the Russian Soviet Federated Socialist Republic over 15 Years (1932, Leningrad). Leonid Chupiatov died during World War II as a result of the German-led blockade of Leningrad. Academic sources indicate his death occurred between 1941 to 1942.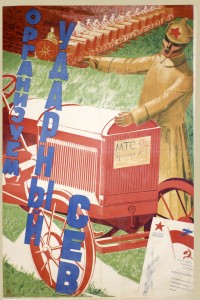 Fuentes
Lopukhov, F., et al. (2003). Writings on ballet and music. Madison: University of Wisconsin Press. (bio Chupiatov and Deshevov)
Benedetti, J. (1988). Stanislavski. New York: Routledge. (bio Chupiatov and Stanislavskii)
Dickerman, L. (1996). Building the collective: Soviet graphic design, 1917-1937: selections from the Merrill C. Berman collection. New York: Princeton Architectural Press. (bio)
Gallereia Art Kommintern (bio)
sothebys.com (bio)